Article
Three Dimensions of Organizational Health for Family Businesses
Published: Jul 16, 2020
Business families face a unique set of challenges and complexities in maintaining healthy family relationships, business relationships and shareholder relationships. The intersections of the well-known 'three circles' of family businesses (family, business, ownership) are where this complexity happens – particularly when family roles and business roles overlap. Healthy relationships and effective governance, including ownership agreements, are critical for a family business to thrive and achieve the continuity that many business owners desire.
For a family business to function at its best, healthy intra-family relationships are critical.
Family relationships always exist in a 'web' created by bilateral relationships between members of multiple generations and, frequently, multiple siblings. If intra-family discussions are only ever bilateral without considering the 'web', there is enormous scope for misunderstanding and misinterpretation of what is communicated one-on-one and relayed second-hand. This is why it is very important that a business family has a forum for discussions outside those bilateral relationships. Regularly planned family meetings with thoughtfully determined attendees (you need to decide where to 'draw the line' in your family) and a carefully focused agenda that is effectively chaired will be the first step on a path to good family governance for a business family.
Typically, even a family business will include non-family employees. The health of those business relationships can be supported by clarity around the intersection of the family and business 'circles'.
Non-family management and employees should be respected with clarity around policies and processes for family members to work in the business, and with consistency of evaluation and remuneration. Trust in business relationships can be built and preserved in many ways, and each family business will have its own nuance on that. It's important to give careful thought to the role that the business governance group –the Board– can play in setting the tone for building and maintaining trust between family and non-family employees and management. This is one reason why it is considered absolute best practice to have non-family members on the Board.
Healthy ownership relationships are founded on a strong shareholder agreement – something that a surprising number of family businesses just haven't got around to putting in place.
Just as good fences create good neighbours, a good shareholder agreement takes stress out of relationships between owners (and their partners, and their children) because it defines the agreed consequences of changes in the owners' circumstances, such as marriage, divorce, death, parenthood or a wish to exit the business. If your family business doesn't have a shareholder agreement in place yet, this should be a high priority. But you'll probably want to have a family meeting to start the process (see above).
---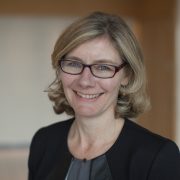 Elisabeth Finch, Partner, Family Enterprise Services, PwC Canada.
Elisabeth is a passionate and creative leader who relishes opportunities to bring alternative perspectives to her clients. Elisabeth leads PwC's Family Enterprise Services practice in BC.