Article
Managing Risk in the Family Enterprise
Published: Jun 17, 2021
A Family Focus story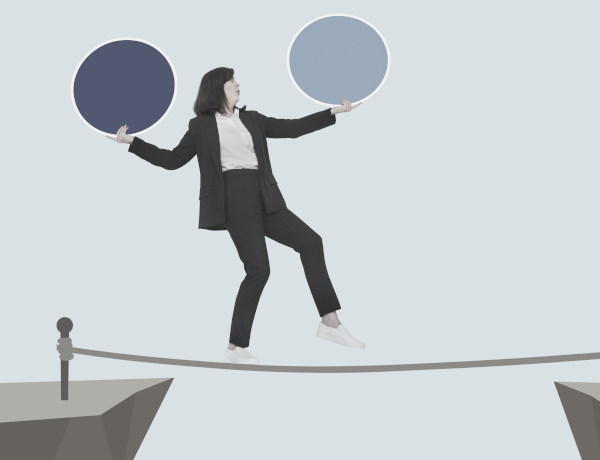 The Gilberts faced an opportunity and a challenge. The family, based in the Canada's Pacific Northwest region, are second-generation winemakers. Deborah and Ron, children of the founder, along with their spouses, have operated Over the Hill Vineyard and Winery for the past three decades. They produce award-winning wines, including several vintages of chardonnay and pinot noir, and have a growing customer base nationwide through their wine club and social media campaign.
In 2019, with strong revenue and cash reserves, the Gilberts saw an opportunity to significantly expand their operations. The family currently owned 25 acres of land, a 12,000ft² winery facility and a chic bistro featuring gourmet food and a tasting room. For years they bought additional varietals from area growers to increase their production to 10,000 cases; however, the quality of these outside grapes was inconsistent. As their sales and reputation grew, the Gilberts wanted to increase production capacity while remaining a top-quality wine producer.
Moreover, the family had heard a nearby vineyard was up for sale. At a full 80 acres, it was significantly larger than their current vineyard almost exactly the size they wanted. However, there were two significant obstacles. First, the vineyard had been neglected for almost a decade due to the current owners' chronic health issues. The vines were feral and would require considerable investment of time and money to restore. Additionally, it was located on an island off the local coast, which meant ideal growing conditions for multiple varietals, but further challenges related to transportation, labor and community relations. For example, the island's permanent resident community was wary of outsiders and had shown only limited support for economic development activities, as they wished to keep island life simple. All of this meant that the Gilberts faced both the typical risks of expansion — such as capital and infrastructure risk — as well as more unique risks related to this specific opportunity.
In the Gilbert family, Deborah and her husband were more willing to take greater risks, due to their focus on the potential gains rather than potential consequences. So, their individual risk appetites were higher than average, especially for family enterprise members. Ron and his wife, in contrast, were more risk-averse, wary of making large moves, including those related to expansion. Unlike Deborah, whose children were still young, Ron had adult children, and he and his wife were looking forward to a more relaxed life including regular vacations and retirement on the horizon — so they were more cautious with finances. Indeed, Ron was more conservative in general and had questioned some of his sister's financial and other judgement calls over the past five years. Thus, the family collectively had a mixed approach to risk, with large variations in risk-related preferences.
Not surprisingly, this family culture led to challenges and, sometimes, outright clashes around decision-making, with the couples reliably falling on different sides of the risk continuum: Deborah and her husband pushed for pursuit of the island vineyard acquisition, while Ron and his wife were much more cautious about wanting to go ahead with the expansion.
The Gilbert's decided to take a strategic approach to risk-management in order to better manage the potential negative business impacts. They took a simple and pragmatic approach utilizing well-established risk management principles and steps (see model below, source: Sage-Hayward, W. (2021). The Lifecycle of a Family Business).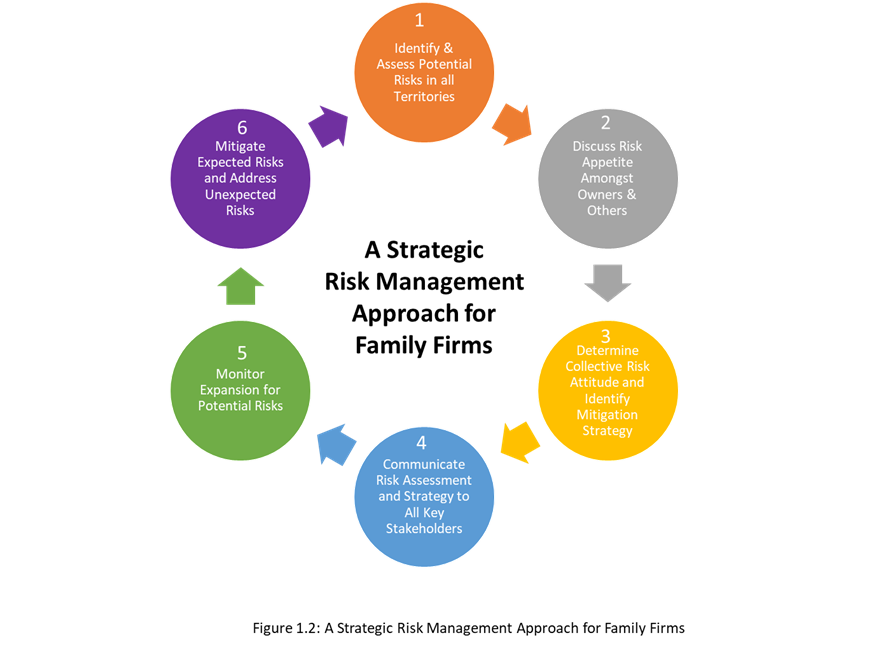 Wisely, the Gilberts followed the risk-management steps here to assess and address the risks of moving forward with acquisition of the island vineyard. First, they spent significant time assessing risks part of the family enterprise system. In the business circle, for example, they recognized the large potential costs of logistics, including labor and transportation. The vineyard's housing for laborers was dilapidated and would require significant investment to be habitable. Similarly, transportation of supplies to the island was costly. They accounted for these costs in their business plan to provide a more realistic forecast of the capital required to finance the new operation. They also understood the need to maintain strong relationships with the island community and local government, as related to stakeholder relations risk. Moreover, dealing with the risks the new vineyard posed could distract or take resources from the current operations, compromising performance.
In the family domain, Ron was particularly concerned that the financial stress of expansion might disrupt or erode his relationship with his sister. Deborah worried she might resent Ron if he stood in the way of the acquisition, closing off a potentially valuable opportunity for the business. They and their spouses recognized the couples had divergent visions: while Ron wanted a more manageable business, his sister wanted to create a larger business legacy — and wealth — for future generations.
On the ownership dimension, perceptions of risk were related closely to the "harvest versus growth" challenge family owners face. Ron and his wife were much more harvest-focused than his sister and her husband. Ron was eager to preserve large dividends for family members, to secure his vision of a more relaxed empty-nesting stage, including the ability to take regular vacations. Deborah was more willing to re-invest profits in the business, rather take distributions. Both recognized the risk that came from working with untested grapes — if product quality became an issue, it could affect the brand, profits, dividends and family reputation significantly, which none of them wanted.
The couples discussed these issues at length in the context of their individual and collective risk appetites and attitudes. The conversations themselves were of great value, as the four owners had never sat down together to discuss risk so thoroughly and openly. Armed with greater shared understanding of their risk-related perceptions and concerns, they ultimately instituted several measures of risk-mitigation.
In this way, the Gilbert's' systematic approach to risk-management surfaced their preferences and concerns in a safe environment and enabled them to reach an integrative solution that addressed risk in all three family enterprise domains and move forward with their expansion plans. They also agreed to monitor risk carefully, have regular risk-related discussions and revise their plan as needed going forward.
---
This is an amalgamated example from several family enterprise scenarios created to illustrate risk management issues.