Podcast
Certainty Amongst Uncertainty
Published: Apr 14, 2020
Let's Talk Family Enterprise Podcast – Episode #10
Guest Host: Steve Legler, FEA
Guest: Peter Vaughan, MA, RCC, FEA
At a time when uncertainty reigns for most of our clients, and ourselves, some things are certain. It is certainly true that we are all spending more time in our homes; it is certainly true that relationships are adapting to new realities and it is certainly true that we are experiencing far more anxiety than normal. Discussing how COVID-19 difficulties provide a significant opportunity for personal and professional development, Steve Legler, FEA, sits down with family therapist, Peter Vaughan, MA, RCC, FEA, for some guidance with our own family circumstance, for our work as advisors and for the family enterprise clients we seek to help.
Mentioned in this episode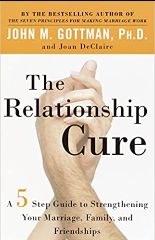 The Relationship Cure
Author: John M. Gottman, PH.D.
A revolutionary five-step program for repairing troubled relationships — with spouses and lovers, family members, friends, and even your colleagues.